In this episode of This Week in Teams, Jay and Craig talk about the new releases feature updates from Microsoft for January 2022. They talked about how, due to the holiday season, it seemed like there were few exciting announcements, they then proceeded to talk for 25+mintues.
The first thing they covered was unmute keyboard short cut, they would like to see it as a global hotkey. They talked about custom backgrounds from the web being a nice release and how Craig really needs to clean his office up so he could be like Jay and not need to use a background. That conversation transitioned to Craig wanting to use multi-cameras and multi-camera support being more easily supported in Teams. They also referenced an episode with Andy Hunneycutt and the setup he uses to make more interesting videos and drive better viewer engagement.
Moving on to "Mirror my video"; this is a feature where you no longer have to see the text in your video flipped. Which, of course, led to hilarity because it is only visible to the presenter but everything is the same for all the viewers; Jay thought it was backwards for everyone.
They then talked about Teams meetings recordings. Ever since meetings were moved into OneDrive, organizations saw their SharePoint storage skyrocket. Onedrive provides nifty capabilities, from sensitivity labels to eDiscovery, and now the admin capabilities support cleaning up your videos automatically – so check out Stream if you're recording things that should be turned into long-term education. Jay and Craig talked about how recordings of 1 on 1 calls can be useful but also posed interesting problems because people can be more candid than normal and need to be careful of what's recorded.
We then rolled through Teams Rooms feature that they didn't think were necessarily important to talk about in detail:
Rooms on Windows
Cortana updates in Teams Rooms on Windows
Cortana skills now available in additional languages
AAD conditional access support for Teams Rooms on Windows
Last but not least, we closed on talking about Jeff Teper's twitter post on Mesh for Teams and how important it is for legless avatars to have chairbacks…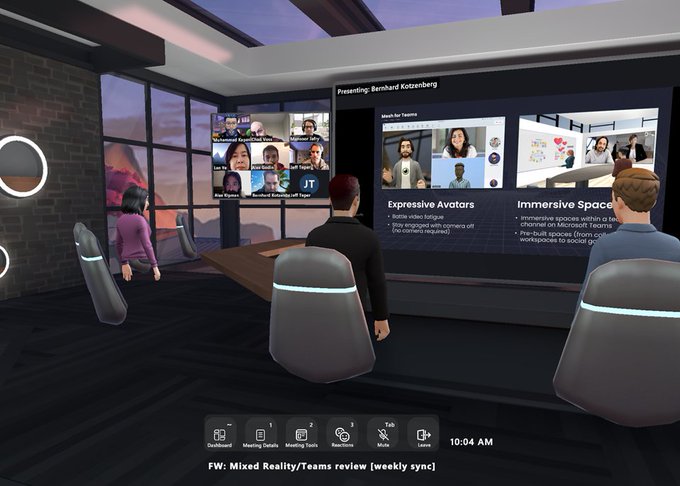 and then closed out the recording with their usual witty banter.
Join us next time on This Week in Teams!
Podcast: Play in new window
Subscribe: Google Podcasts | Email | RSS | More